Product Announcement from 3 Dimensional Services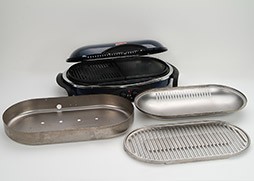 With deadline to a major trade show looming, Coleman puts the heat on for portable grill prototypes…rapid prototyping specialist cooks up fast response
As one of the world's premier producers of equipment for outfitting tenters and RVers, backpackers and trailblazers, hikers and bikers, and backyard adventurers…The Coleman Company knows a thing or two about leisure time. But, when it comes to readying products for market introductions and maintaining a comfortable competitive edge, Coleman realizes leisure and time may be non-existent. That's why, when facing the prospect of exhibiting in an upcoming trade show for buyers without examples of a new product introduction, the project team turned to 3-Dimensional Services for assistance. The Rochester Hills, MI,-based rapid prototype firm specializes in design, engineering and analysis, in-house tool construction, and complete build of first off parts and low to medium volume production runs. Their use of advanced process methods and manufacturing technologies means prototype parts are typically provided up to 70% faster than conventional prototype shops can offer.
Thus, when Coleman recently needed several Coleman® Road TripTM Grills readied for the show, 3-Dimensional Services was able to produce eight different parts, including stampings and deep-draw stampings plus casting of components in just three weeks. The fast turnaround encompassed stereolithography modeling, CAD-to-CAM programming transfer, high speed machining of stamping dies, mold construction for the foundry tools and casting, hydraulic press forming, 5-axis laser trimming-all provided in-house by 3-Dimensional-and the out-sourced service of chrome plating one of the parts.
The fast turnaround also meant that the grills were ready on time for the show, and that allowed Coleman to shorten its development time and ignite its production to outdistance the competition in the retail market of portable grills ideal for tailgating and stadium outings, camping and picnics and small patio/deck home barbecuing. The Road Trip grill offers versatile, easy to transport performance in a variety of settings, as a table-top unit or on legs, and with features such as multiple cooking surfaces including a grill, a griddle, and a stove-type burner ring. It can be fueled by a disposable 16.4 oz propane cylinder or can be outfitted with an optional hose and adapter for use with a 20 lb. refillable fuel tank.
According to Steve Kelly, 3-Dimensional Services' senior sales engineer and project coordinator of the Coleman grill prototypes, the application presented some unique challenges for the firm. "Usually, the prototypes we produce are used by engineers to evaluate performance characteristics and verify design," says Kelly, "for testing clearances and fits, dimensions and such. They may even try-out fixtures for additional machining processes or assembly procedures. Few times, however, are the prototypes used as a substitute for actual products at a trade show and to impress potential buyers."
"For the show, some components would be given an enamel or porcelain finish, meaning the metal components had to have a near perfect finish for those Class A (visible) surfaces, since even the smallest imperfections would be magnified after the coating was applied. With this in mind, all the stamping tools were designed to not only generate this level of finish but to also accurately demonstrate production intent. In the end, the project went smoothly and the necessary surfaces were smooth."
For the grill, 3-Dimensional Services was asked to produce two stamped, deep-draw steel grill components…the lid and lower bottom housing. Two additional stamped pieces were a formed inner tray that acts as a drip pan below the cooking surface, and an outer tray, enclosing the drip pan and, when chrome plated, is a decorative panel that helps to direct heat to the cooking area.
The cast parts consisted of two handles for transporting the portable grill, and separate cast griddle and a cast grill cooking surfaces. The cast pieces were all molded using aluminum alloy.
The project for 3-Dimensional Services began with Coleman providing CAD data files, downloaded to the prototyper's design workstations where translation by various CAM software systems, including specialized work for die and mold machining, and multiple-axis laser cutting. In addition, the designs for the parts that were to be cast were translated and downloaded to the firm's stereolithography (SLA) department to produce plastic models, which in turn could then be used by the company's mold and pattern experts to produce the foundry tooling.
The SLA produces three dimensional models of parts, typically completing these replicas in a few hours. SLAs use the CAD data file to generate a dimensional travel path for a laser light source that cures a photosensitive polymer into successive layers that eventually form the size and shape of the part. The resulting model can be used as a "hands-on" reference tool for checking fits, fixturing or machining requirements if needed for subsequent steps, and may also be used as a time-saving and highly accurate "positive" in the fabrication of casting tools.
Another important factor, according to Mr. Kelly, is 3-Dimensional's use of aluminum alloys to fabricate the tools and dies for prototype stamping and forming operations. "We've tested various aluminum alloys and have found one that holds up well for short runs," he remarks, "while the speeds at which it can be machined helps to reduce machining times by 50% or more as compared to some tool steels. Coupled with today's high speed CNC machining centers and their capabilities for programming complex tool paths, we were able to turn out tools fast yet capable of producing the required surface finishes."
Equally critical to 3-Dimensional's fast production of the grill components is the fact that the company possesses its own wide array of stamping presses from 60 ton up to a 7000 ton unit, plus the necessary laser cutting systems (12 in all) for trimming the formed grill pieces after stamping-all in-house technologies so that they are able to control virtually the entire process.
As previously mentioned, in this application, 3-Dimensional sent the outer liner/heat reflector insert to an outside source for chrome plating. After completing all of the mold and pattern tools, the company also contracted out the actual pour of the castings at a foundry that specializes in small runs, prototype work and fast scheduling flexibility.
"In just three weeks, not only did the Coleman team have the parts they needed to successfully display the Road Trip grill at the trade show," relates Kelly, "they also had manufacturing-intent tool designs that helped to quicken the construction of production tooling and assure fast production startup."
3-Dimensional Services has redefined prototyping-the ability to manufacture complete, production-like prototype parts in a rapid time frame. The company, along with its subsidiaries Urgent Plastic Services and Urgent Design & Manufacture, provide prototype services for virtually all process disciplines including laser cutting and welding, machining, stamping, hydroforming and tube bending, injection molding, vibration welding, castings, RIM tooling, rapid modeling, high definition stamping of exotic alloys, and assembly operations.
You have successfully added from to your part list.
---