Welding
Service Detail from 3 Dimensional Services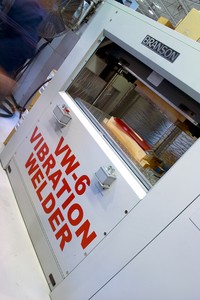 One of our specialties is welding. Our capabilities include laser systems for not only welding but also assembly. A high-power laser welding assembly system allows us to join similar and dissimilar materials, and stocks of different thickness that results in a high integrity weld with minimal heat affected zones. We also have a number of robotic welding stations, TIG and MIG welders and spin riveters.
When appropriate, we conduct certified weld inspections. We have, on staff, five certified inspectors along with a specialized software program that helps identify and measure penetration depths so critical inspection can be completed in house.
Equipment
IK-12 Max 3 Line Burner Welding System
Oxy-Acetalyne Torch System
(2) Oxy-Propylene Torch System
(2) Powermax 1000 Plasma Cutter
PPT X-Cytation Micro Resistance/TIG Welder
(5) Miller Deltaweld 302 MIG 400 Amp Welder
Miller Invision 350 MP Steel/Aluminum Welder
(2) Miller Invision 456 MP TIG 350 Amp Welder
(2) Miller Syncrowave 351 AC/DC TIG 300 Amp Welder
(4) Miller Syncrowave 250 AC/DC TIG 300 Amp Welder
Lincoln Ideal Arc CV-300 MIG
Miller Syncrowave 250DX TIG 300 Amp Welder
(10) Cp-302 MIG 400 Amp Welder
Lincoln Ideal Arc SP-250 MIG
Lincoln Wire Matic 255 MIG Welder
(3) Miller Millermatic 251 MIG 250 Amp Welder
(4) Miller Dynasty MIG 250 Amp Welder
Miller Millermatic MIG 250 Amp Welder
Daytron 150 Amp Arc/TIG Welder
Miller Maxstar STH Arc/Tig 150 Amp Welder
(4) Alphil Spot Welder 230 kva
Sciaky PMCR 4ST Spot Welder 200 kva
(2) Alphil Spot Welder 170 kva
H&H Spot Welder 100 kva
Sciaky PMCO Spot Welder 90 kva
DT Industrial Spot Welder 85 kva
(3) British Federal Spot Welder 75 kva
(2) Smith Cobun Spot Welder 65 kva
ARO Hanging Spot Welder 36-51 kva
(6) Panasonic VR-006L Robot Welder
(2) Fanuc Gantry Style Dual Arm Robot Welder
Panasonic VR-008AV IIRobot Welder
Panasonic Robot Welder With Rotory Table
Branson VW-6 Vibration Welder 15 HP 22" x 46" x 16"
Solidica Aluminum Ultrasonic CNC Welder
You have successfully added from to your part list.
---