Product Announcement from 3M Industrial Adhesives and Tapes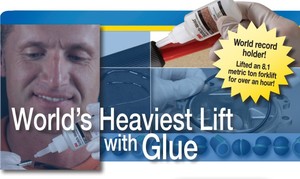 3M Industrial Adhesives has reached a new high...or at least, the forklift did! Just a few drops of their new line of 3M™ Scotch-Weld™ Plastic & Rubber Instant Adhesive PR100 applied to four 2-part steel cylinders was all that was needed to suspend a 17,857 pound forklift in the air for one hour, setting a new world record for the heaviest weight lifted with glue.
This technology offers a practical, easy-to-use alternative to conventional attaching methods like bolts, welds, rivets and screws in many industrial applications requiring high strength joints.
Pinch just a single drop per square inch from the handy bottle and bond with up to more than two tons of holding power. That's strength often greater than the bonded materials themselves.
And...for a limited time, this amazing adhesive is available at 50% off of the manufacturer's retail list.
3M™ Scotch-Weld™ Plastic & Rubber Instant Adhesive PR100 is a solvent-free cyanoacrylate that reaches handling strength with hundreds of material combinations in 5-10 seconds and 80% of full strength in an hour. But there's more to it than seconds-fast bonding...
Also rely on PR100 for a wide selection of other properties to help improve production and end use:
Super fast curing
Low odor
Low blooming
High temperature resistance
Rubber-toughened for impact resistance
Flexible to resist vibration
Plastics and rubber grade for LSE plastics and hard-to-bond rubbers
Bonding contaminating and/or acidic surfaces
High viscosity for gap filling, porous substrates, vertical applications
Wicking applications for metal, plastic, and rubber
You have successfully added from to your part list.
You need Flash player 8+ and JavaScript enabled to view the See Video - Adhesive sets Guinness World Record video.
Get the Latest Flash player.
---