Video - Lose the Screws with Dual Lock Fasteners
Product Announcement from 3M Industrial Adhesives and Tapes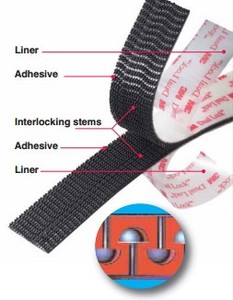 3M™ Dual Lock™ Reclosable Fasteners have the strength to replace mechanical fasteners, yet the power to readily open / close, attach / detach up to 1,000 times. These unique fasteners withstand temperature, humidity, UV exposure and chemicals.
3M™ Dual Lock™ Reclosable Fasteners offer five times the holding strength of traditional 3M™ Hook and Loop Fasteners and are still lightweight. They have interlocking mushroom-shaped stems that "snap" together for strong fastening on one side and adhesives on the other to securely adhere to various surfaces on the other.
Typical Applications Include:
Online DIYers
POP Displays and Trade Show Booths and Graphics
Ceiling Tiles or Carpet Installation
Durable Medical Equipment
Appliance
Seat Cushions
Access and Wall Panels
Electronics
Plastic Display Shelves
Foam Inserts (i.e., Equipment Carrying Cases)
Sign Facings
Interior Muntin Bars for Window Panes
General Industrial
Dashboard and Other Transportation Interiors
Solve your design dilemmas and replace those screws and bolts today with tool-free, seamless Dual Lock reclosable fasteners system!
---