Jiffy-Drill
Product Announcement from AAA Products International, Inc.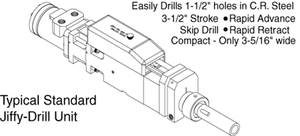 Jiffy-Drill is the light, powerful, and compact answer to production drilling, reaming, spot facing, and similar operations. It will drill holes up through 1-1/2" diameter in steel with ample allowance for dull bits. In tests it has drilled 1-3/4" diameter holes in steel, and has produced 0.025 chips in mild steel using Model B-6 motor.
Using a hydraulic motor to rotate the spindle, the standard unit will produce up to 6 HP, yet is so compact that two units will mount side-by-side on 3-5/16" spacing, or as close as 3-3/16" if housing is specially machined and if one unit is ordered with feed piston ports on the opposite side, or bottom. See price list for optional port locations.
The Jiffy-Drill is very compact, with a maximum length of less than 27" from end of motor to end of drill chuck when a standard Model B-3 motor and the standard No. 3 Morse taper spindle are used. The length is slightly greater with larger hydraulic motors.
Light & powerful production drilling, reaming, spot facing, etc.
Mounts on 3-5/16" centers.
Drill holes up through 1-1/2" diameter.
Speed range of 50 to 5000 RPM.
Spindle rotated by a hydraulic motor, or electric drive.
Feed driven by hydraulic pressure up to 800 PSI.
Built-in cams & limit switches easily adjusted for stroke limits.
Adaptable for depth stop dwell, peck drilling, or skip drilling.
Choice of motors up to 6 HP.
Optional quick change motor feature available.
Operated by hydraulic power unit and 4-way solenoid valve
You have successfully added from to your part list.
---