Product Announcement from ABB Low Voltage Products & Systems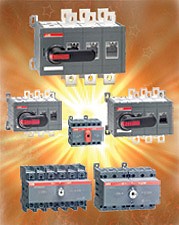 ABB's non-fusible double throw switch line sets a new standard for disconnect switches industry-wide. The most compact solution on the market today, ABB's Double Throw Switch portfolio offers customers superior performance, easy installation, ultimate protection, and global standards & availability.
ABB's portfolio of non-fusible double throw switches ranges from 16 – 600 amperes. Switches up to 100 amperes are offered in a side-by-side design configuration. A double-decker stacked design is utilized on the 200 through 600 amp versions. Three pole open-type and enclosed versions are available on all models. The 200, 400 and 600A versions are also available in 4 pole open-type and enclosed configurations. For a full list of part numbers, please consult the enclosed catalog sheets.
All transfer switches are heavy duty 600V as well as UL approved (UL 508 – 16 through 80 amp; UL 98 – 30 through 600 amp).
The Double Throw Switch range consists of switches, mechanically interlocked to each other, with electrical characteristics that allow on-load switching between the two supplies. The isolation of the primary and secondary circuits is assured by the positive contact opening function and the reliable position indication.
ABB transfer switches are equipped with three stable positions (I-O-II) and are independent of external supply. In operations there is no risk of an unexpected opening of the switch due to loss of supply voltage--no supply voltage is necessary to keep the switch in the closed position.
Benefits:
Compact Size = Cost Savings
§ The Double Throw Switch line is built on the platform of standard ABB disconnect switches; therefore, the compact size of the standard switch itself is incorporated into the overall
§ Short current path reduces heat losses which further reduce the size of the enclosure needed
§ High terminal positioning enables easy wiring, even for two cables in the same terminal. Usage of parallel cables reduces required cable bending space thus reducing the size of the enclosure
§ Light, yet very sturdy construction – which brings reductions in logistical costs and smoother installations
Ultimate Safety and Protection
§ Visible contacts help ensure a reliable isolation has been achieved
§ Clear position indication -- I-0-II and ON-OFF-ON markings
§ Full finger protection reduces the chance of accidental contact with terminals
§ Self-extinguishing materials
Simple Installation
§ Hidden auxiliary contacts enable attractive installation with complete finger protection
§ Additional auxiliary contacts – side mount kit allows 8 additional auxiliaries to be mounted
§ Contact movement does not rely on gravity but rather on spring forces. Therefore, the switch can be positioned upside down, sideways, etc.
§ Reliable setting is possible with only one shaft set screw, speeding up installation
Global Availability
As with all ABB disconnect switches, the double throw switches are internationally accepted and are marked accordingly– UL508 (16 – 80A) UL98 listed (30 – 600A), CSA, IEC/EN 60 947-3, CE-marked, CCC (Chinese certification). Regardless of the final destination of the switch, it will be pre-approved for local authorities.
Bridging Busbars
ABB's 200, 400 and 600 amp double throw switches offer extreme flexibility as they can be used either as standard transfer switches or as mechanically interlocked switches.
For these switches to operate as a standard double throw switches switching between two power sources, a bridging busbar kit is required. Without the bridging bars, the switch will function as two mechanically interlocked switches operated by one common handle.
Standard 3 pole Bridging Busbar Kit Part Numbers:
OTZC13 – compatible with OT200U30C
OTZC23 – compatible with OT400U30C
OTZC33 – compatible with OT600U30C
Handles & Shafts
Three-position (ON-OFF-ON; I-O-II) handles are to be used with the Double Throw Switch lines.
Standard selector and pistol handle shafts can be used in conjunction with the special transfer switch handles.
Applications
The complex systems of distributing power in emergency cases are often controlled by logics with mechanical devices for making and breaking, conduction and isolating power. Other times, the loads may need to be transferred from one supply to another. This is the case when the use of energy is restricted, when the supplying source is overloaded, or when maintenance is required.
The transfer switch carries out the switching and the reliable isolation between the primary network supply and the alternate supply, thus ensuring the continuity of performance. Therefore, transfer switches can be used anywhere continuous power is required.
The primary market for transfer switches is that of critical power applications. In critical power applications, uninterrupted power supply and reliability is essential as they depend on around-the-clock system availability for a wide array of applications.
A momentary loss of power can shut down hospitals and first responder communication networks, financial institutions, computer hardware, air traffic control towers, business-based infrastructures, and telecommunication systems.
The need for a secured power supply is ever increasing as minimization of product and maintenance downtime and associated cost is a critical factor for successful business.
The loss of power incapacitates any building, office, or factory that depends on computers, communication and information systems, motors, heating and cooling units, or any other electrical based operation. Therefore, providing stand-by, emergency power supply is imperative for most business operations.
Technical Features
Excellent electrical ratings
2 breaking points per power pole -- this guarantees excellent electrical properties in the most demanding applications, including DC breaking the same thermal current rating in both open air (Ith) and in enclosures (Ithe); there is no need to increase the dimensions of the equipment because of ventilation.
HP ratings up to 600V for UL, full AC-23A ratings as a motor switch up to 690 V for IEC.
Double ratings, both HP and general purpose ratings enable use in both inductive motor loads as well as resistive general purpose loads
Environmentally friendly materials -- does not contain materials that produce harmful waste e.g. halogens, cadmium etc.
Operational Features
Quick Make & Break
Quick make & break mechanism prevents play – you can not shift the switch to the middle position. If the contact would remain there, the arc could potentially keep on burning thus reducing the life of the switch.
Reliable position indication
If an installation experiences an over-current situation which welds the switch contacts, the mechanism will not allow the handle to rotate to the OFF position and falsely indicate a safe open circuit. The welded contacts will either be driven open or the mechanism will return to the ON position, indicating a live circuit, it will not be possible to reach the OFF position
Order New printed catalog (USA only): Product Selector 09
View catalog pages on-line: Product Selector 09
You have successfully added from to your part list.
---