Stand-Alone Printer & Scanner Portable Solution
Product Announcement from A Bar Code Business, Inc.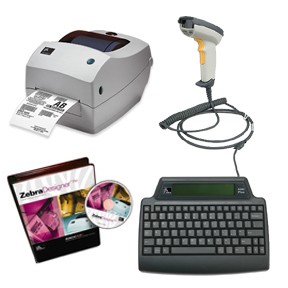 Do you need to print labels without being tied to a host computer, then cut the cord and be free of the bulky computer to streamline and increase your printing productivity? It's as easy as connecting a KDU (keyboard display unit) to the desktop printer! With a KDU you have 3 different options, you can enter the data in by retrieving stored information, type in variable data via the keyboard or scan an existing barcode with an attached laser scanner. Now, you are ready to print labels from the stand-alone solution. Use in a number of different applications where utilizing your workspace is a must: Auto Maintenance, Event Management, Shipping & Transportation, Manufacturing & Distribution.
Zebra TLP-2844Z Printer
Zebra KDU Plus

Motorola LS 2200 Series Laser Scanners
ZebraDesigner Software
---