A-Series Pneumatic Diaphragm Pumps
Product Announcement from ALMATEC Maschinenbau GmbH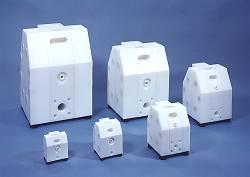 ALMATEC's A-Series made of plastic has been developed on the basis of extensive experience in the production of pneumatic diaphragm pumps and offers numerous advantages meeting market requirements.
Six sizes with max. delivery volumes of
0,6 m³/h (A 08)
1,2 m³/h (A 10)
3 m³/h (A 15)
6 m³/h (A 25)
18 m³/h (A 40)
32 m³/h (A 50)
make it possible to choose exactly the right pump for the specific application.
A variety of materials is available for the A-Series pumps:
Housing - PE, PE conductive, PTFE, PTFE conductive
Diaphragms - EPDM, PTFE/EPDM
Ball valves - EPDM, PTFE, stainless steel
Cylinder valves - PE, PTFE
A-Series pumps made of PE conductive and PTFE conductive meet the ATEX requirements of the directive 94/9/EG.
Further features of the A-Series at a glance:
only three housing parts made of the same material
connections in the solid center housing
three alternative port configurations
with ball or cylinder valves
same internal structure for both valve types
patented maintenance-free air control system PERSWING P® without dead center
composite diaphragms with integrated metal core
no diaphragm discs
integrated carrying handle
proof against dry running and overloading
self-priming
insensitive to solids (ball valve versions)
gentle displacement
can be infinitely controlled via the air volume
no drives, no rotating parts, no shaft seals
unattended operation with long service life
compact solid design
easy to start up
integrated muffler
recessed tie rods with spring washers
vibration dampers with female thread on the underside for simple direct installation
low noise levels
optional features meeting requirements:

screw-on pulsation damper
back flushing system
barrier chamber system
diaphragm monitor
stroke counting
flange connection
For full details and specifications, click the following link:
---