Almatec E-Series Pumps for Explosion-Proof Areas
Product Announcement from ALMATEC Maschinenbau GmbH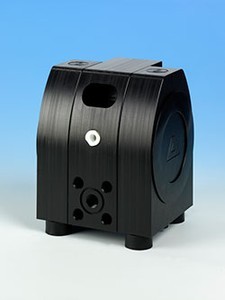 Almatec has used solid body construction in its new E-Series AODD Plastic Pumps to create a more reliable, more efficient pump when compared to the performance of similar models that rely on injection molding for their construction. The housings and internals of the conductive versions are made of PE or PTFE filled with conductive pigment which always remains below the limits set by the FDA. The pumps are to be grounded via a connection on the center housing, thus excluding the risk of electrostatic charges. Conductive pumps of the E-Series are ATEX conform. They can consequently be used without difficulty in gas and dust atmospheres and for inflammable liquids. Pumps that feature solid-body construction can be designed so that the required wall thicknesses are arranged where they are needed. The mechanical machining of a solid plastic block is economical thanks to modern computer numerical controlled (CNC) technology that enables far tighter tolerances to be achieved than those pumps that use injection-molded parts. The E-Series' design and solid-body construction provides a wide range of advantages to the end-user: increased pump safety due to an innovative ring-tightening structure; increased product capacity; decreased air consumption; reduced noise level; optimized flow pattern; and a screwed-on or flanged pulsation dampener. The pump's structure allows all housing bolts to be tightened against a diaphragm-sized ring on each side of the liquid housing. This creates a greater and more even compression at the sealing surfaces, which results in increased safety. The new E-Series Air-Operated Double-Diaphragm Plastic Pump line is also designed with improved energy efficiency and performance top-of-mind. Rigorous in-house and field testing of the E-Series pumps has led to the creation of a pump with more efficient flow patterns. These tests have shown that the E-Series is capable of producing a higher flow rates while at the same time consuming less air, when compared to legacy models. This results in increased pump efficiency, lower energy costs and improved overall performance.
The development of the E-Series is based on the extensive experiences with the proven pumps models and offers a large variety of new, market-relevant advantages such as:
further increases pump security due to innovative ring-tightening structure
increase capacity
decreased air consumption
reduced noise level
optimized flow pattern
pulsation damper suitable for flange connection
As common, the housing parts are tightened to each other via housing bolts. However, instead of single bolts pressing punctually against the housing, all housing bolts are now tightened against a diaphragm-sized ring per side. This structure results in more evenly spreading the housing bolt force and in an increased permissible bolt torque - in the end an increased pump safety which is assisted by further improvements of construction details. The flow resistance is reduced via an optimized flow pattern to increase the efficiency factor of the pump. Compared to the A-Series, the same air flow achieves a higher fluid flow, respectively less air flow is required fro the same fluid flow. The pulsation damper can still be used an integrated model on top of the pump. However, an additional version with flange connection is available now.
For more information:
---