Rapid Prototyping of Your Microfluidics
Service Detail from ALine, Inc.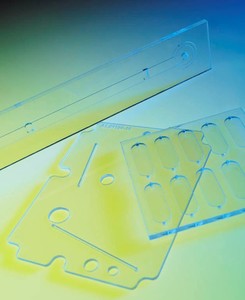 ALine's Polymer Laminate Technology (PLT) platform enables rapid prototyping and volume manufacture of bio microfluidic devices. PLT enables lab-on-a-chip functionality, supporting the next generation of products for distributed, low cost, handheld tools for industrial, health and field portable applications.
We provide what injection molding, embossing, and etching cannot: enclosed channels and complex 3D structures in a bio-compatible plastic device.
PLT further enables the incorporation of important functional elements into these fluidic devices, including porous membranes, flexible valves, re-circulating pumps, fiber optics and electrodes.
With ALine's track record of success and honored as a supplier/partner for a molecular diagnostic product, we know how to solve the unique problems associated with microfluidic development and support our clients who rely on our expertise in bioanalytics to aid in the product development process.
Read more about ALine's technology and what we offer:
Developing Diagnostic Products Using Polymer Laminate Technology
For more information on ALine's capabilities or how they may be applicable for your project, please Contact Us with your inquiry.
You have successfully added from to your part list.
---