AMETEK Standard and Custom Blower Solutions
Product Announcement from Ametek Dynamic Fluid Solutions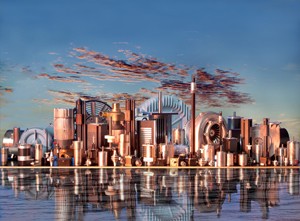 AMETEK Nautilair blowers offer one of the broadest selections of brushless blowers available. Up to 40% more compact than competitive models, they offer up to 10:1 speed control plus custom option cards.
Speed can be adjusted internally with an onboard potentiometer or with an external PWM or DC control that actively varies blower performance (eliminating a need for complex air intake damper systems); internal electronics convert AC input to DC; and blowers typically operate in excess of 20,000 hours virtually maintenance-free.
The Nautilair product line is available in four series (7.6", 8.0", 8.9", 12.3") and blowers accept line voltage input of 120 VAC and 240 VAC, depending on model.
Or choose AMETEK Windjammer® variable-speed, brushless DC blowers for compact, low noise, long life solutions in medical devices (airbeds, laser therapy cooling, and lab equipment), gas-fired combustion systems (fryers and steamers), high-volume copiers, high-end digital printers, and fuel cells, among others.
AMETEK variable-speed brushless DC motors feature exclusive Universal Drive Systems. Now you can specify a single Windjammer blower design that will operate over voltage inputs from 100 to 240 VAC, and satisfy virtually every voltage standard around the globe!
All of our durable 5.7"/145 mm Windjammer blowers also feature IntelliGen™ Controller Design. This electronic control drive integrates a factory-programmed digital signal processor (DSP) and easily accommodates on-board options including remote potentiometer speed control, tachometer or status outputs; even custom cards for specific applications.
Finally, our robust ROTRON® blowers are specifically designed to operate in harsh transit applications.
AMETEK Technical & Industrial Products offers one of the largest selections of blowers, fans, motors and pumps for heavy duty transit applications and other commercial vehicles. They include:
Bus
Evaporator blowers/condenser fans
Under-floor and under-seat blowers
Driver's ventilation blowers
Heater/defroster blowers
Stepwell blowers
Radiator cooling fans
Water circulating pumps
Rail
Power inverters
Evaporator blowers/condenser fans
Locomotive cab blowers
Diesel fuel pumps
Finally, if your solution isn't in our lineup, you'll find it in our custom design capabilities. We will work with you to develop specific fans and blowers with the specific performance and operating characteristics required by your applications. Just ask us.
---