Brushless DC Blowers - MEDICAL and COMMERCIAL Uses
Product Announcement from Ametek Dynamic Fluid Solutions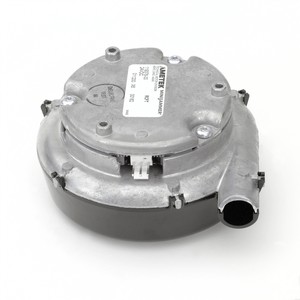 All blowers in this family are designed with diameters of 5.0" (127mm) and an overall total length of 3.0" (76mm) to fit small design envelopes. Their brushless DC motor technology promotes virtually maintenance-free operation over a long service lifetime.
These 12/24VDC blowers can achieve output pressure up to 25 inches H2O and flow rates up to 45 CFM, depending on model. The blower's maximum power requirement is 155 Watts, depending both on model and the application's load-point.
The motor's commutation drive electronics can be specified as either internal to the blower package or external as a separate module. When configured for an external drive, the blower allows for the required connection to a 3 phase, brushless DC electronics control module that can be remotely located. In addition, other options are available to allow for customization to meet particular application requirements.
The blower's motor speed can be controlled by receiving a customer-supplied command input (PWM or analog DC voltage signal) or by manual adjustment via the drive electronics' onboard potentiometer.
AMETEK Technical & Industrial Products is a unit of AMETEK, Inc., a leading global manufacturer of electronic instruments and electromechanical devices with annual sales of more than $2.5 billion.
Contact: Shannon Booth, AMETEK Technical & Industrial Products, 627 Lake Street, Kent, OH 44240. Phone: 330-673-3452. Fax: 330-677-3306. Web site: www.ametektechnicalproducts.com
---