Nautilair 7.6 in (192) mm Variable Speed Blowers
Product Announcement from Ametek Dynamic Fluid Solutions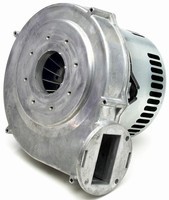 Nautilair 7.6-in. (192 mm) variable speed blowers for gas-fired burner
systems incorporate brushless dc motors to provide reliable performance in
excess of 20,000 hours with minimal maintenance, according to the company.
These premix burner blowers are designed to deliver a measured air/fuel
mixture to optimize combustion and reduce nitrogen oxide and carbon monoxide
emissions. Applications include commercial and residential boilers, water
heaters, furnaces, foodservice equipment, kilns, and fuel cells, among
others. They offer practical alternatives to conventional fixed speed or
two-speed blowers, intake damper systems on fixed speed blowers, or
inverter-driven variable speed blowers. The blowers accept line voltage
input of 12 V dc, 24 V dc, 120 V ac, and 240 V ac, depending on model, and
internal electronics convert ac input to dc. Maximum sealed pressure
capabilities up to 45 in. of H2Oand maximum open flows exceeding 160 cfm can
be achieved.
---