Rotron® Brushless DC Water Circulation Pumps
Product Announcement from Ametek Dynamic Fluid Solutions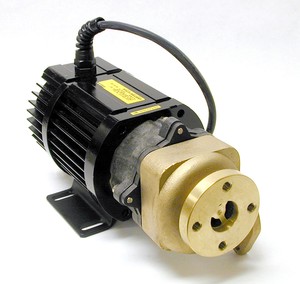 Rotron® brushless DC sealess water circulation pumps can deliver up to 60,000 hours of service life onboard heavy-duty transit buses, construction vehicles, and off-highway equipment. Their sealess design and brushless motor technology both contribute to reliability and optimized performance field-tested for 18 years.
The sealess design offers leak-proof protection and the capability to resist harsh environmental conditions, such as hot-water spray, salt, fog, shock, and vibration. The pump magnetically couples to the brushless DC motor without a wet seal to wear or replace. This coupling method also enables easy motor removal without requiring system draining.
Their electronically commutated brushless DC motor provides virtually maintenance-free operation over time by eliminating brush maintenance and associated brush motor failure. Rare-earth magnets promote high efficiency and low current draw; "O" ring seals protect against the elements; and heavy-duty motor construction meets demanding transit bus and construction equipment requirements.
These Rotron coolant pumps are available in two frame sizes (47 and 64) with 18 or 26 gallon capacities and in 12VDC or 24VDC input voltages, depending on model.
All carry 4.5-year warranties more than double the industry standard and can be customized to satisfy particular application requirements.
AMETEK Technical & Industrial Products is a unit of AMETEK, Inc., a leading global manufacturer of electronic instruments and electromechanical devices with annual sales of more than $1.8 billion.
For more information, contact Shannon Booth, AMETEK Technical & Industrial Products, 627 Lake Street, Kent, OH 44240. Phone: 330-673-3452. Fax: 330-677-3306. Web site: www.ametektechnicalproducts.com
---