Rotron® SL Spiral™ Regenerative Blowers
Product Announcement from Ametek Dynamic Fluid Solutions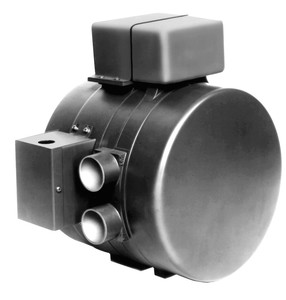 Rotron® SL Spiral™ regenerative blowers provide instrument grade solutions to develop ideal air pressures and vacuums. These clean, oil-free, and low-noise blowers feature compact, rugged construction engineered for reliable and long service life at point-of-operation.
SL Spiral regenerative blowers can agitate solutions, convey parts and products, perform vacuum hold-down and pick-up operations, and dry and clean parts, among other applications. Their regenerative air technology generates pressures or vacuums using one or two spinning, non-contacting, oil-free impellers. Blower design and simple operation contribute to cleaner, safer, and virtually maintenance-free pneumatics.
These blowers incorporate rugged die-case aluminum housing, endbells, and impellers and sheet-metal aluminum covers. Their extremely compact envelope benefits from an internal motor design. Permanently sealed motor bearings promote up to 40,000 hours of service life. Inlet and outlet mufflers contribute to quiet operation within OSHA standards.
SL Spiral blowers can achieve maximum flows up to 100 SCFM; pressures up to 60 IWG; and vacuums up to 4.1 in. Hg., depending on blower style.
All versions are ISO 9001 and CE compliant and can be customized with a wide range of options and accessories to satisfy particular application requirements.
AMETEK Technical & Industrial Products is a unit of AMETEK, Inc., a leading global manufacturer of electronic instruments and electromechanical devices with annual sales of more than $1.8 billion.
For more information, contact Shannon Booth, AMETEK Technical & Industrial Products, 627 Lake Street, Kent, OH 44240. Phone: 330-673-3452. Fax: 330-677-3306. Web site: www.ametektechnicalproducts.com
---