AMPCO® Alloys for Aerospace
Product Announcement from AMPCO METAL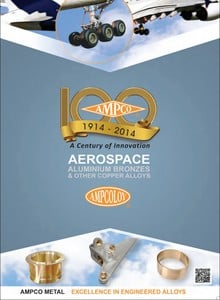 AMPCO® 45
A high strength alloy with mechanical properties beyond the range of commercial nickel-aluminum bronzes resulting from a special manufacturing process employed by AMPCO METAL. AMPCO® 45 is commonly specified for applications involving abrasive wear, friction, mechanical deformation or chemical erosion such as aircraft bearings/bushings, pump and marine shafts, wear rings, valve spindles and seats, machine tool parts, and many others. Furthermore, the spark-resistant properties of this alloy make it suitable for the production of safety tools and machine tool components used in explosive environments.
AMPCO® M4
A truly exceptional alloy that has been heat-treated utilizing the marannealing process to produce a material with mechanical properties and a strength/weight ratio far exceeding the range of commercial aluminum bronzes. The high hardness of AMPCO®M4, coupled with superb resistance to deformation and abrasion, makes this material ideal for applications involving heavy dynamic loads, abrasive wear and frictional forces. In particular, AMPCO®M4 is used extensively in commercial and military aircraft landing gear assemblies, for tube manipulation tools and for parts operating under load in adverse environments,such as the conditions experienced in offshore drilling.
AMPCOLOY® 83
Exceptionally high hardness and strength, combined with good electrical and thermal conductivity. Applications include welding dies for flash-butt welding in cold-rolling mills, injection mold tools and inserts in the plastic molding sector. Special applications in aviation and deep seawater connections.
AMPCO® 863
The higher strength and corrosion resistance of this alloy make it an ideal material for use in the heavy-duty construction and agricultural equipment sectors. By outperforming conventional bronzes, AMPCO®863 has found considerable success in applications such as bearings, worm gears, cams, and in particular, segmented bushings and sleeve bearings.
AMPCO® 18
The primary AMPCO® alloy for heavy duty applications involving wear, abrasion and fatigue, where the absence of nickel in its composition significantly reduces the risk of mechanical abrasion with mating steel surfaces (galling). AMPCO® 18 is the material of choice for wear plates, bearings, tie bar nuts, gears, worm-wheels, tube bending tools, wiper dies and similar applications. AMPCO®18 is readily machined and should be used in mission-critical situations where it is essential to avoid unnecessary down-time or damage to moving steel parts. When compared with generic alloys, the superior mechanical properties of AMPCO®18 provide better impact resistance and resistance to distortion, which are particularly important attributes for aerospace and steel production applications.
AMPCO® 15
Suitable for moderate-wear service bushings, sleeve bearings and bearing races, gears, valve stems, valve guides and seats.
---