AMPCO® 18 Cu Alloy Wear-Resistance & Strength
Product Announcement from AMPCO METAL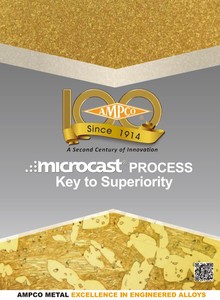 AMPCO® 18 is the primary AMPCO® alloy specified for heavy-duty applications involving wear, abrasion, and fatigue, and the absence of nickel in its composition significantly reduces the risk of mechanical abrasion with mating steel surfaces.
AMPCO® 18 is the material of choice for wear plates, bearings, tie bar nuts, gears, worm-wheels, tube bending tools, wiper dies, and similar applications.
AMPCO® 18 is readily machined and should be used in critical applications where it is essential to avoid uneccesary down-time or damage to moving steel parts.
When compared with generic alloys, the superior mechanical properties of AMPCO® 18 provide better impact resistance and resistance to distortion, which are particularly important attributes for aerospace and steel production applications.
---