Product Announcement from Advanced Machinery Solutions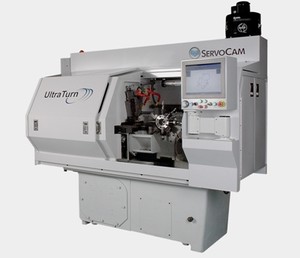 The new ServoCam® UltraTurnTM XL is a new CNC single-spindle screw machine. You can expect short (1 hour or less) setup times and cycle times that are unrivaled by other single spindle screw machines.
Setup times are dramatically reduced because there are no cams or gears to changes on the XL. Also, tooling can be preset, adjustable toolholders eliminated, and tools can easily be adjusted to middle of tolerances with a push of a button.
Not only have customers replaced their entire Brown & Sharpe departments with the XL, many have also moved work from CNC lathe/CNC Swiss machines, and even multi-spindles. The cycle times generally run 60% faster than with cam-operated single spindle screw machines, and work from other platforms is dependent on the type of job. Some customers make parts 4 times faster on the XL than on CNC lathes. If you are running bar work, maximize your machine throughput by running the right parts on the right machine.
Available as a bar machine or chucking machine with automatic loading and unloading, the ServoCam® UltraTurnTM XL speeds are achieved by the ability to perform several operations simultaneously.
A standard XL includes spindle indexing, infinitely variable spindle speeds, programmable slides and spindle, safety-interlocked enclosure, servo-controlled (bi-directional) turret indexing, and a user interface that allows background editing.
Options include cross drilling, cross tapping, turret milling, offset drilling (z-axis), magazine barloaders, chip and part conveyors, mist collectors, DNC networked communication robotic/vibratory bowl feeding systems, and a subspindle for eliminating cutoff nibs or basic backworking.
The UltraTurnTM XL is available in four spindle sizes: .750" (5490 rpm), 1.250" (4240 rpm), 1.625" (3535 rpm), and 2.375" (3090 rpm). The spindle has a peak cutting power of 20 Hp. The 4 cross slides each are capable of 4000 lbf each and the eight tool turret can exert 1900 lbf of force.
CyberNetTM controls include a CAM package for easy programming of simultaneous cutting operations, with no complicated program codes required. A graphical timeline interface provides programming control and visual confirmation of overlapped axes, ensuring that no interference occurs. Combined with a robust machine base, the XL is ideal for medium-to-high volume precision production.
Our customers report setup/operators produce 2.5 times the product that could produce with cam-operated machinery…and even higher production increases over CNC lathes. And adoption time for this new technology is being measured in weeks, not months. Customers are training setup/operators to perform independent setups in weeks.
Call AMT Machine Systems today, toll free at 866-204-0660 for further information or to set up a Production Analysis for your plant/department.
You have successfully added from to your part list.

Play ServoCam® UltraTurn™XL Video
---