Fast AND Reliable CFD Solutions
Product Announcement from ANSYS, Inc.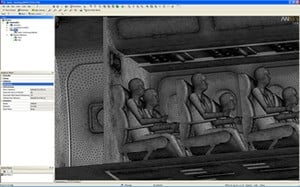 The pressures of global competition, complex requirements and shorter development schedules are forcing CFD engineers to do more in less time - without sacrificing accuracy.
Accurate results help to prevent over-engineering along with its embedded costs. With high-fidelity CFD results in hand, engineers can design within smaller safety factors, which can ultimately reduce cost of a product or process. Conversely, poor-quality CFD results can lead to incorrect design specifications and increased development time. Accuracy and reliability of fluid flow simulation builds confidence that the solution will operate as intended, allowing shorter design cycles and quicker time to market.
The simultaneous pursuit of CFD speed and accuracy is a critical dilemma that can seem next to impossible. Engineers sometimes believe they must choose one over the other. But ANSYS has incorporated both with its CFD product suite, without compromise. By reducing overall time to reliable solutions, ANSYS fluid dynamics software enables organizations to do more in less time with fewer resources than ever before.
The suite offers powerful geometry tools with bidirectional parametric CAD connectivity and direct modeling capabilities, Furthermore, it provides complete meshing flexibility, from highly automated to user-defined meshing. For many applications, ANSYS Meshing within in the ANSYS Workbench platform is fully automated and produces high-quality meshes suited for capturing important flow features (such as flow separation, mixing and recirculation). Specific applications, such as turbomachinery and external aerodynamics, benefit from advanced capabilities. The products deliver advanced CAD/geometry readers and repair tools that allow users to quickly move to geometry-tolerant meshers and produce high-quality volume or surface meshes with minimal effort
You have successfully added from to your part list.
---