Symmetra MW
Product Announcement from APC by Schneider Electric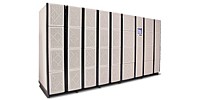 Think big, think scalable - The world's largest modular UPS Symmetra MW redefines high-power UPS technology as a modular, fault-tolerant UPS in the 400-1600 kilowatt range. Ideal for large data centers, complete buildings, healthcare and other critical facility protection requirements, the Symmetra MW can be scaled for rigorous and changing electrical demands. Symmetra MW provides increased availability through internal N+1 configurability, predictive failure notification and multi-module paralleling features. Setting a new standard for low cost of ownership Symmetra MW delivers best-in-class efficiency and a reduction in rating of electrical infrastructure- wires, transformers and generators. Slide-in/out power modules, manageable external batteries and self-diagnosing features greatly reduce mean time to repair. Combined with a wide range of line-up and match options Symmetra MW provides a customizable system in a standardized design for any large on-demand network-critical physical infrastructure.
Features & Benefits
Availability
Configurable for N+1 internal redundancy - Provides high availability through redundancy by allowing configuration with one more Power Module than is necessary to support the connected load
Power Modules connected in parallel - Enhances availability by allowing immediate, seamless recovery from isolated module failures
Modular design - Provides fast serviceability and reduced maintenance requirements via self-diagnosing, field-replaceable modules
Battery failure notification - Provides early-warning fault analysis on batteries enabling timely preventive maintenance
Audible alarms - Provides notification of changing utility power and UPS conditions
Network manageable - Provides remote management of the UPS over the network
Generator compatible - Ensures clean, uninterrupted power to protected equipment when generator power is used.
Agility
Scalable power capacity - Reduces UPS over-sizing costs today by allowing quick upgrades later
Scalable runtime - Allows additional run time to be quickly added as needed
Parallel-capacity capable - Increases total power capacity by using multiple UPSs simultaneously
Parallel-redundant capable - Power the connected equipment with multiple UPSs to increase system redundancy
Multiple cable-entry points - Provides flexibility of UPS placement in the room and easy access to install cabling to the terminal blocks
Front-access servicing - Simplifies installation and maintenance while minimizing space requirements
Total Cost of Ownership
Fully-rated power kVA equals kW - Reduces cost by eliminating the need for an oversized UPS for Power Factor Corrected (PFC) loads
Input power factor correction - Minimizes installation costs by enabling the use of smaller generators and cabling
Automatic self-test - Periodic battery self-test ensures early detection of a battery that needs to be replaced
Temperature-compensated battery charging - Prolongs battery life by regulating the charge voltage according to battery temperature
Manageable external batteries Reduces preventative maintenance service needs by monitoring the health and status of the external batteries and their expected runtime.
Intelligent battery management Maximizes battery performance, life, and reliability through intelligent, precision charging.
---