Product Announcement from APM Hexseal Corp.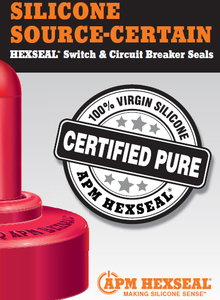 Although the boot may look like silicone or fluorosilicone, it may actually be made of neoprene or some other inappropriate or less demanding elastomer that can't meet rigorous specifications for temperature range, tolerances, tactile feel, actuation and shelf life. It could be subject to cracking/splitting, de-lamination (between the boot and bonded mounting nut), and just plain leakage.Worse, it could contain a percentage of re-cycled silicone and fillers.
Recycled silicone rubber is just another word for scrap-one way for the manufacturer to lower his costs-but it does not benefit the user. The OEM/user may eventually experience problems that are not detectable on incoming inspection.The scrap component may have been subjected to two heating cycles instead of one.
Also, there is the potential of catalyst imbalance between the new and old materials. Ironically, silicone will start to outgas soon after being molded which is unacceptable The migrating silicone particles can easily coat the switch/breaker contacts causing failures by increasing contact resistance-another problem that probably will not show up until well after testing. The solution to this problem is the special post-cure we developed that locks and stops silicone migration in its tracks. This is another reason to be confident when you specify an APM HEXSEAL® sealing boot.
With few exceptions, our sealing boots are IP66/68 rated and UL Recognized Component and DFARS & RoHS Compliant, made in the USA.
Download our New Brochure: SILICONE SOURCE-CERTAIN HEXSEAL Switch & Circuit Breaker Seals
You have successfully added from to your part list.

Play Don't Take Silicone For Granted! Video
---