Product Announcement from APM Hexseal Corp.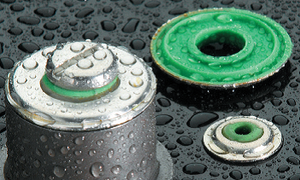 SEELOC® washers consist of silicone rubber bonded to formed stainless steel washers, and are designed for a variety of electrical and mechanical applications. SEELOC®washers are used with conventional screws, bolts or studs to complete the sealing and locking action.
UL Recognized (UL Type 4X/6 enclosures) and IP66/68 water ingress rated, SEELOC is an ideal sealing solution in a wide variety of mechanical, electrical and electronics applications that require high-performance, air/liquid-tight sealing. Upon compression, the bonded, dish shaped silicone rubber sealing disc makes full 360° horizontal surface contact from the hub to the mounting hole. The silicon rubber also makes full vertical contact with the screw/bolt shank/threads – thus completing the high-pressure seal.
This would be a difficult feat for an ordinary O-Ring, or any sealing washer that does not fully make fastener contact. The SEELOC silicone contact surface landscape features a continuous ridge, creating a contoured sealing barrier, as well as a periphery locking joint, when used for mounting on a protruding round extended surface. Extra large size holes or odd shaped adjustment-slots, in addition to conventional mounting holes, also benefit from these precision, reusable sealing washers.
SEELOC washer technology is perfect for any securing application where spray, vapors or wash-down is present, and where future maintenance may be of concern due to contaminant exposure from salt spray, ozone, UV, lubricants, cleaning solvents, etc.
TYPICAL APPLICATIONS:
•Electrical Enclosures meeting NEMA Standards
•Laboratory Equipment & Scientific Instruments
•Manufacturing & Process Equipment i.e., Food, Chemical, Pharmaceuticals, etc.
•Material Handling & Packaging Equipment
•Motion & Control Equipment
•Networking & Communications Equipment
•Test & Measurement Equipment
•Contract Manufacturing & Fabrication
•Boat & any Marine-related Equipment
•Construction & Off-Road Equipment
•Industrial & any Specialized Application Equipment
•Powder & Liquid Handling Equipment
•Filtration & Separation Equipment
•Monitoring & Control Equipment
•Military & Security Equipment
•Custom & Metal Fabricators
•Medical Equipment
Plus anything that is exposed to a spray or wash downs
You have successfully added from to your part list.
---