KMW1040, Multi-Band Amplifier
Product Announcement from AR Modular RF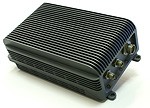 AR Modular RF's new KMW1040 amplifier is designed as a vehicle mounted 50 watt, 30 – 512 MHz self tuning amplifier that will be used as a booster amplifier in conjunction with hand held and vehicle mounted multi-band tactical radios such as Harris 117F, Raytheon PSC-5D, Thales MBITR PRC 148, Harris Falcon PRC 152 and other similar tactical radios. It is designed for Line of Sight LOS, Satellite, SATCOM and SINCGARS hopping modes of operation, and can be used with current tactical waveforms.
Operation requires no operator intervention or mode setting as the amplifier automatically selects the correct band of operation and is automatic level controlled to keep the output power constant. It is protected against antenna mismatch, over-temperature, excessive current draw, and DC power reversal. It is designed to operate from both 12 and 24 volt vehicles. Like all of the company's military communications amplifiers, the KMW1040 is built to withstand severe military environments.
The KMW1040 has completed and passed a series of operational field tests with the end customer and will now go into full production. It is the latest in a line of "Battle Tested" tactical radio amplifiers all of which have already proven that they can stand up to the toughest military conditions.
---