ISTFA Conference and Exposition
Product Announcement from ASM International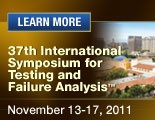 ISTFA 2011 - 27th International Symposium for Testing and Failure Analysis
Attend the premier event for the microelectronics failure analysis community. Finding the Invisible Defect is this year's theme in San Jose as we continue to identify features and defects that have become obstacles to resolving problems.
At the nanoscale level, our ability to identify features and defects has become an obstacle to resolving problems. ISTFA organizers invite you to be part of this year's event where the latest technologies in the industry are presented. Join us in San Jose, California for the 37th year of ISTFA.
The ISTFA technical symposia, user groups, education opportunities and the largest equipment exposition in the industry make ISTFA the best place to learn, network and further your career. Plan and register.
---