ATI Bar, Rod & Wire
Product Announcement from ATI Wah Chang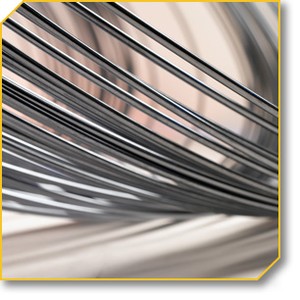 ATI Bar, Rod & Wire Products
ATI produces bar, rod and wire for customers in a variety of industries, worldwide. Our unsurpassed manufacturing capabilities in our ATI Wah Chang Huntsville, Alabama and Frackville, Pennsylvania operations offer a wide range of drawing, annealing, finishing, testing, and inspection capabilities:
Hafnium Alloys: This alloy absorbs thermal neutrons and acts as an alloying additive. It has exceptional strength, ductility and resistance to heat and oxidation making it well suited for plasma cutting torch tips, surgical implants and fission reactors
Niobium Alloys: Valued for its strength at high temperatures and its ability to pass electricity with minimal resistance at very low temperatures makes Niobium alloys a great fit for aerospace, automotive, superconducting, medical and mining applications
ATI Nitinol™ Alloy: This Nickel Titanium Shape Memory Alloy (SMA) is kown for its super-elasticity and ability to return to its original shape. ATI Nitinol™ Alloy is often used for aerospace, automotive, commercial and medical applications
Titanium Alloys: Known for its unique corrosion resistance, great strength-to-weight ratio and excellent toughness, titanium is material-of-choice for aerospace, medical, space, chemical processing and automotive applications
ATI Zircadyne® Zirconium: Recognized for its excellent ductility, thermal conductivity, strength and superior corrosion resistance, ATI Zircadyne® Zirconium is a beneficial alloy for safe operations in nuclear power and chemical processing applications
Solutions for Challenging Applications
ATI is committed to meeting the increased need for Titanium, Niobium, Hafnium and Zirconium bar, rod and wire products to meet the ever increasing demands of our markets. Our bar, rod and wire products are successfully used in the following markets and applications:
Aerospace: Flight system and aircraft structural components, springs, fasteners, rivets, and couplings
Automotive: Ultra-efficient motors, actuators, and springs
Chemical Processing: Brush spines used in cleaning heat exchangers, cloth filters, corrosion resistant rod for supports, fasteners, tower packing, valves and anodes
Consumer: Energy storage devices, jewelry, eyeglass frames, and recreational equipment
Medical: Lead wires for pacemakers, wool for bonding prostheses to bone, pins, fasteners, orthopedic products, Magnetic Resonance Imaging (MRI), Nuclear Magnet Resonance Imaging (NMR) devices, and stents and screens for medical and dental products
Mining: High-pressure autoclave leaching (HPAL) valve components and weld wire
Nuclear Power: Control rods, couplings, fuel bundle spacer grids and end caps
Space: Satellite on-board fuel filtration systems
Superconducting: High-energy particle accelerators, magnets, and thermal couplings
Welding: Plasma tips, and rod and wire for welding in aerospace, defense, chemical and mineral processing
Our Commitment to Quality
ATI follows a regimented Quality Management System to consistently provide products that meet both customer specifications and regulatory requirements. This Quality Management System is designed to comply with both national and international standards, which include:
• ISO 9001:2000
• SAE AS9100 Rev. B
• MIL-Q-9858
• MIL-I-45208
• ASME NQA-1
• ASME NCA 3800
• 10-CFR-50, Appendix B
In addition to adhering to multiple quality standards, we are able to employ non-destructive testing methodologies on our rod and wire products, including ultrasonic, dye penetrant, and eddy current testing.
Our quality control technicians and inspectors perform mechanical testing on all incoming semi-finished material by analyzing sample material from each lot to verify that the material meets the latest specification revisions. Our facilities operate in compliance with AMS, ASTM and customer specifications.
---