ATS Supertrak Modular Conveyor System
Product Announcement from ATS Automation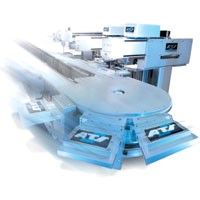 Assembly rates of 120 parts per minute. Multiple part programs on the same system Finally, automation that's as fast as it is flexible. An unprecedented breakthrough in high speed pallet-based conveyance, ATS Supertrak delivers entirely new levels of automation system productivity, and pays for itself in as little as 12 months.
Programmable independent control over the direction, acceleration, speed and position of each pallet eliminates hard stops and pallet-to-pallet contact, minimizing the shock loads applied to parts being assembled. The result is unmatched throughput and yield. And Supertrak does not require auxiliary equipment such as lift & locates, so cycle times are faster than ever.
Based on state-of-the-art linear-servo technology developed at ATS, Supertrak's simple, modular design makes reconfiguring for new product lines a reality. So your investment continues to pay off project after project, over the life of the conveyor. And because there are few moving parts to wear and maintain, operation is incredibly clean and uptime is dramatically higher than with conventional technology.
True "power & free': Fully programmable control over individual pallet motion at any point on the system eliminates pallet-to-pallet contact and facilitates auto-cueing at work stations. Built-in pallet ID eliminates the need for external RF or mechanical pallet tags and enables the supervisory network to know where the pallet is in real time.
Flexible and reusable:Supertrak can be fully reprogrammed "on the fly", and because there is less auxiliary equipment than with conventional systems, retooling is greatly simplified. Extendable to over 40 meters, Supertrak's integrated modules require no sensors or actuators, so reconfiguring for new applications is easy.
Fast cycle and index times: Cantilever pallet design allows full multi-sided access to pallets and fixtures, eliminating the need for lift & locates. Integrated x-axis operation uses the precision of the transport system to enable on-pallet tasks such as dispense and screwdriving, without the need for expensive multi-axis robots. As a result, cycle times are reduced to an absolute minimum. Empty pallets can move independently between process stations at full acceleration and velocity.
Greater uptime and long service life: Few moving parts to wear and maintain.
---