sortimat Clearliner™ Clean Room Handling
Product Announcement from ATS Automation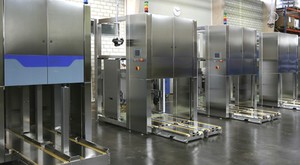 sortimat Clearliner™ clean room handling technology feeds parts rapidly, smoothly and precisely to the production process and removes them again with the same care and speed once assembled-regardless of whether you use trays or pallets.
Standardization & Customization in One
All modules are standardized and volume made-dramatically reducing lead times. We also customize this technology to suit your unique needs.
All versions are suitable for clean rooms of class 10,000. And where necessary, they can be constructed for higher classes. What's more this machine is easy to access, clean and maintain.
sortimat Clearliner™ handling technology is designed to meet the challenges of rapidly feeding small parts that cannot be easily fed in bulk because they might become damaged or tangled. Built to handle large quantities, these machines can also be quickly retooled for smaller batches.
You can remove or replenish trays or pallets while the machine is in operation, without halting production. sortimat Clearliner™ handling technology is available in either a standard or a fast version. Both versions are designed for visibility allowing you a clear view of all components and actions.
Both versions are extremely compact and even the control cabinet is fully integrated. We offer a fully automatic version with a conveyor belt. Alternatively, we can provide a lower cost-and space saving version-with a trolley.
Guaranteed Uptime and Performance
Design concept minimizes machine vibration
Performance rating with generous allowance
Product-specific engineering, optional FMEA (Failure Mode Effects Analysis)
Guaranteed Ease of Use and Clean Room Compatibility
Suitability for clean room is a key design principle
All moving parts above the product are encapsulated
Exceptional visibility for simple line clearance
Rapid re-tooling and easy manual intervention
Designed to ensure flush surfaces, with components, including sensors and cables, covered and seamlessly integrated
Easy to maintain and clean
See sortimat Clearliner™ handling technology product specification for details on the 400, 600 and 1000 models.
---