Product Announcement from Aalborg Instruments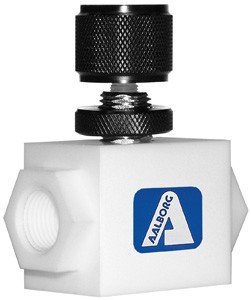 Aalborg®'s VT6 6mm orifice PTFE Needle Valves' simplicity of design (only 6 components) assures minimal sources of leakage, quick disassembly, and easy maintenance.
Ideal for relatively high flow ranges while maintaining linear, repeatable flow rate performance, the VT6 can be used in pressure, non-critical vacuum service, or as shut-off valves.
The unique radially compressed PTFE o-ring feature allows quick compression adjustments without disassembly.
PTFE and PCTFE materials make the VT6 Valves reliable choices for laboratory andi ndustrial applications requiring corrosive gas and liquid regulation or high-purity service.
Design Features Include:
Rigid PCTFE valve spindles virtually eliminate "creeping."
Panel Mountable.
3/8" FNPT ports
Fluids contact only PTFE/PCTFE materials.
316 SS bushings.
Visit Aalborg®'s online catalog. www.aalborg.com Call 1-800-529-4180 or 1-845-770-3000.
You have successfully added from to your part list.
---