Anodizing
Service Detail from Able Electropolishing Company, Inc.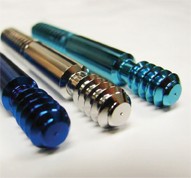 Electropolishing cuts costs and improves quality on metal parts.
We serve customers world-wide from our modern facility.
We operate 24 hours a day to meet your production schedules.
Our website provides extensive case histories highlighting metal surface problems and solutions.
We can process most alloys in any production quantity.
ISO 9001:2000 certified
Same day and next day service.
Providing quality service since 1954
Electropolishing can improve surface finish by as much as 50%.
Electropolishing: Our proprietary reverse plating technique offers solutions to a wide variety of metal surface problems. Brighten, deburr, size and passivate your parts all in one operation.
Metal Alloys We Electropolish:
200-300 Series Stainless Steels
400 Series Stainless Steels
Precipitating Hardening Grades
Copper Alloys
Specialty Alloys
Nickel Alloys
Unusual Stainless Steels
Carbon Steels
Tool Steels
Specialty Steels
Aluminum
Titanium
For a full list, visit www.ableelectropolishing.com/metal.htm
Brite® Passivation: Our proprietary Brite® Passivation process was designed for customers who are looking for a superior process to passivation. This light electropolishing process gives your part some brightness as well as leaving the surface free of contamination.
Passivation: An acid cleaning process designed to remove free iron from the surface of corrosion resistant steels. ABLE passivates per the ASTM A967 specification, as well as many other industry and customer-specific standards.
---