Passivation
Service Detail from Able Electropolishing Company, Inc.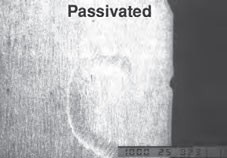 Passivation is a chemical cleaning process that is designed to remove free iron and other ferrous contaminants from the surface of stainless steel parts. By removing the contamination from machining, stamping, etc., you are helping restore the material to the original mill condition and corrosion specifications.
Contact Able Electropolishing for a FREE Sample Offer.

We make it easy for you to evaluate our unique process.
Why choose ABLE Electropolishing?
• ABLE Electropolishing has been in business since 1954 and is a trusted source in the metal finishing industry. Our customers cover a wide array of industries including: aerospace, medical, dental, pharmaceutical and food processing, to name a few.

• Our state of the art 40,000 square foot facility gives us the ability to process one part to thousands of parts in a timely manner.

• ABLE has the capacity to passivate both small and large parts. Our largest tank measures 30" x 36" x 186".

• We offer expedited service at our centrally located facility that operates 24 hours a day, five days a week with three equally staffed shifts.

• ABLE passivates in accordance with ASTM A967, AMS 2700, ASTM A380 and ASTM F86, as well as, many other industry and customer-specific standards.
Is Passivation the Right Process?

• Several popular grades of stainless steel should not be passivated due to low levels of chromium and nickel. When passivated, you run the risk of flask attack occurring which weakens the base material and does irreparable damage to the part.

• Welded or brazed parts are not recommended for passivation. The process is not capable of removing the scale and discoloration in the "heat affected zone".

• As an alternative to passivation, your part may be better suited for our proprietary Brite Passivation process. This process involves a light electropolish, which is a superior process to passivation for improving corrosion resistance.

• Please contact our sales department at sales@ableep.com with questions on which process is best for your application.
---