Abrisa Technologies Now has Gorilla® Glass
Product Announcement from Abrisa Technologies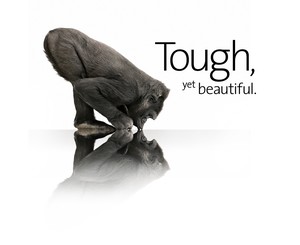 Abrisa Technologies is pleased to announce that it has reached an agreement with Corning to be their recognized distributor for Gorilla® Glass for the Western United States. According to Jim Veler, President and CEO of Abrisa Technologies, "Adding Gorilla® Glass to our existing portfolio of High Ion Exchange (HIE) glass product offerings, allows us to provide our customers with a multitude of optical solutions. As a market leader in precision optical coatings and custom glass fabrication, including Corning® Gorilla® Glass as an available material enables us to service our customer base with another outstanding product while opening up some new avenues to market our services." He additionally states, "We look forward to a long and prosperous relationship with Corning®, and trust that we will play a pivotal role in their distribution process."
Gorilla® Glass is an environmentally friendly alkali-aluminosilicate thin-sheet glass. According to Corning®, "Elegant and lightweight, Gorilla® Glass is durable enough to resist many real-world events that commonly cause glass failure, enabling exciting new applications in technology and design. Gorilla® Glass features exceptional damage resistance to the scratches, drops, and bumps of everyday use. It's thin, cool to the touch, and cleans easily - making it the perfect solution for sleek, seamless designs. Gorilla® Glass is RF compatible, and has outstanding optical clarity."
Dimensionally, Gorilla® Glass can be ordered from Abrisa Technologies in thicknesses from 0.5mm to 2.0 mm and in Gen 5 (1250mm x 900mm) sheets which can then be fabricated to suit specific size and shape requirements.
Gorilla® Glass has significant advantages over other glass materials.
Damage resistant - Chemically strengthened via an ion-exchange process creates a deep compression layer on the surface of the glass substrate, reducing the introduction of flaws by the end-user.
Thinner form factor - Thicknesses range from 0.5mm to 2.0mm depending upon specification and application requirements.
Unparalleled surface quality - Glass is exceptionally clean, smooth, and flat, with outstanding optical clarity due to Corning's proprietary fusion process.
Compliance with environmental standards - RoHS compliant
Compatibility with touch screens - tough enough to handle the surface pressure intrinsic to touch screen devices, since it is exceptionally thin, it is more sensitive and provides accurate responses.
Easy-to-clean, wear-resistant coating - a special coating makes Gorilla glass easier to clean than other cover glass, finger prints and smudges are no longer a problem.
Other customized fabrication value-added solutions from Abrisa technologies that can be performed on Gorilla® Glass include the application of thin film coatings, various edge treatments, custom cutting and drilling, screen printing, Bus Bars and more.
Typical applications for Gorilla® Glass Include, smartphones, laptop and tablet computer screens, mobile devices, touchscreen devices, household appliances, and a host of other optical components.
About Abrisa Technologies: Abrisa Technologies is headquartered in Santa Paula, California and is comprised of three divisions that provide precision optical products and services. The divisions include; Abrisa Industrial Glass, Inc., Sycamore Glass Components, and ZC&R Coatings for Optics. As a market leader in optical coatings and high quality precision glass fabrication, Abrisa Technologies is dedicated to providing premier customer service and cost-effective products that fit each customer's exacting requirements. www.abrisatechnologies.com
You have successfully added from to your part list.
---