USB-Based Data Acquisition Product Line - NEW
Product Announcement from ACCES I/O Products, Inc.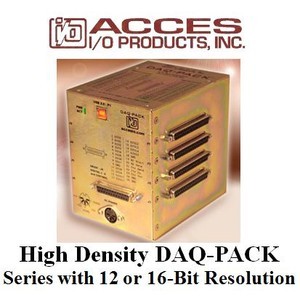 Acces I/O's DAQ-PACK Series is an unbelievably flexible USB-based multifunction analog I/O system.
The DAQ-PACK Series is a highly integrated multifunction data acquisition and control system. The system offers an ideal solution for adding portable, easy-to-install high-speed analog and digital I/O capabilities to any PC or embedded system with a USB port. It performs signal conditioning such as RC filtering, current inputs, RTD measurement, bridge completion, thermocouple break detection, voltage dividers, small signal inputs, and sensor excitation voltage supply.
Quick Links:
Sustained sampling speeds up to 500kHz are available for 32, 64, 96, or 128 single-ended or differential analog inputs. Groups of eight channels at a time can be independently software configured to accept different input ranges. A unique, real-time internal calibration system allows the unit to compensate for offset/gain errors giving a more accurate reading.
About Acces I/O:
ACCES offers one of the industry's widest selection of data acquisition (DAQ) products, with hundreds of standard, off the shelf products to choose from. These products include signal conditioning, analog and digital I/O, RS-232/422/485 serial communications, isolated input / relay output, and watchdog timer cards, which feature specific, practical functionality.
Use the links below to view ACCES I/O's extensive line of products (Including specifications, additional information and pricing):
You have successfully added from to your part list.
---