Redundant Power Systems...unexpected power loss
Product Announcement from Acopian Power Supplies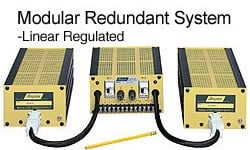 Use these when you can' tolerate a power supply failure.
Redundant Power Packages • Pluggable Redundant Power Packages • Modular Redundant Systems • Linear and Switching • Rack Mounting or Wall Mounting • Shipped within 9 Days • 5 Year Warranty
Redundant Power should be considered for any equipment where the highest attainable reliability is essential, and an unexpected loss of power would be disastrous. Such applications include communications systems (both voice and data types), computer systems (volatile memory systems in particular), process controls, utility and municipal systems, and security/safety alarm systems.
Each Redundant Power Package or Modular Redundant System contains two identical power supplies with their outputs interconnected through a diode switching arrangement that will detect any fault condition, isolate it from the system output, and pass only the output of the other supply with no interruption of output power during the transition.
Go to www.acopian.com .......... or go to www.find aPowerSupply.com
---