Post-Construction Soundproofing Breakthrough
Product Announcement from Acoustiblok, Inc.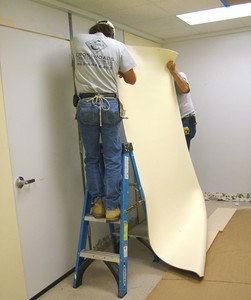 Acoustiblok-Wallcover is designed for post-construction soundproofing and is applied directly on top of an existing wall--a breakthrough in noise reduction! It's flexible, thin (approximately 5/16 of an inch thick) and available in 4" by 8" sections. The exposed surface is a fire-retardant silver fabric finish that can be finished just like drywall in any number of textured finishes, painted or covered with wallpaper.
Acoustiblok-Wallcover tranforms sound energy into mechanical friction energy creating a unique noise barrier on any wall. Made in the USA, and based on our core Acoustiblok product, the product is easily installed by a team of two people.
In laboratory testing a precisely built to code wall was acoustically tested. The SAME wall, after adding Acoustiblok-Wallcover revealed that in the 4000hz critical range, the Acoustiblok-Wallcover shows a dB reduction of an amazing 14dB. To the human ear this represents a reduction in noise of more than 60 percent. For more info: Acoustiblok-Wallcover Soundproofing Material
You have successfully added from to your part list.
---