QuietFiber Industrial Noise Absorption Material
Product Announcement from Acoustiblok, Inc.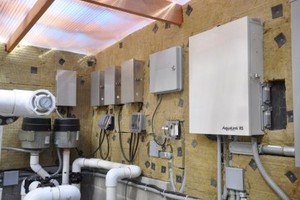 QuietFiber® (Non-Fiberglass) hydrophobic industrial noise absorption material. Engineered specifically for maximum noise absorbency and used extensively in the industrial and commercial field, QuietFiber is a simple solution to many industrial noise issues. Non-fiberglass QuietFiber is rated at the highest noise reduction level of NRC 1.00.
Areas of high noise levels including sound reverberation can be resolved easily and economically by introducing QuietFiber into as much of the area as possible. The amount of noise reduction in highly reflective rooms will be directly relative to how much of the QuietFiber material can be installed into the room.
QuietFiber is available in 4 ft. x 6 ft. sheets x 2 in. thick. Ceiling tiles may also be replaced with QuietFiber. Unlike other fibrous materials or fiberglass which does not have the high NRC ratings that QuietFiber has. QuietFiber is hydrophobic, meaning it will not absorb nor combine with water. This is an advantage should the material become wet, humid or need steam cleaning. Marine noise reduction applications are endless.
Additional benefits:
• Highest noise absorption rating of NRC 1.00
• Hydrophobic, will not combine with water
• Will not support mold
• Easy installation
• Full outdoor weather and UV tolerant
• Easily used in conjunction with a high STC barrier material such as Acoustiblok
• High temperature capable for high temperature sound abatement
• Comprised of up to 90% recycled material, 100% recyclable, Non-fiberglass
• QuietFiber material is virtually fireproof. UL rating of 0-smoke and 0-flame; it more than meets any fire code
• Entirely made in USA. • Size: 48" (1.2) x 72" (1.8m) x 2" (50mm)
Technical Data:
• ASTM NRC1.0 • ASTM E 84 - 0 Flame Spread Index 0 Smoke Development Index
• Standards Compliance: • ASTM C 665 Non-Corrosive Type I
• ASTM C 612 1A, 1B, II, III
• ASTM E 136 Rated Non-combustible per NFPA Standard 220
• ASTM C 1104 Absorption less than 1% by volume
• ASTM C 356 Linear shrinkage <2% @ 1200° F (650°C)
• For frequencies of 125hz 250hz 500hz 1000hz 2500hz 4000hz. the corresponding NRC's are 1.0, 0.36, 0.79, 1.15, 1.04, 0.96, 0.93.
For more information: QuietFiber Industrial Noise Absorption Material
You have successfully added from to your part list.
---