See Video: Unique Sprue Curing Solution
Product Announcement from Acrolab Ltd.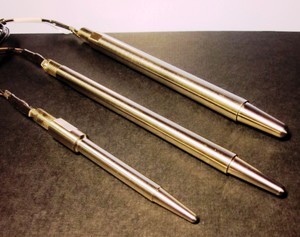 An ingenious improvement in the injection/compression thermoset molding process by Acrolab has provided a unique solution to the challenge of predictable high speed curing of the sprue section that now allows for faster cycle times, improved mold cycling, better quality, less waste and lower maintenance costs.
What's the secret? The ISOSPRUE™ Spreader!
Long established as an R&D leader in thermal engineering, Acrolab has developed an integrally heated mold component, which contains its own miniature precision thermocouple that can be heated and controlled to any discrete temperature to assure fast effective curing of the sprue, resulting in shortened cycle times and safer mold cycling.
In addition, less waste and lower maintenance costs are achieved because the sprue area never needs cleaning, since the thermoset material in the sprue is cured out completely.
The ISOSPRUE™ Spreader is made of D2 steel and nitrided for toughness. It is integrally heated with 400Watts of power at 240 VAC allowing it to be easily and directly incorporated into the control system typically used to heat the mold. The ISOPSPRUE™ Spreader has its own internal and replaceable precision type J thermocouple which permits closed loop control to the resin's optimum operating temperature.
Acrolab custom fits the ISOPSPRUE™ by adjusting the spreader to the stack height of the tool to ensure the best possible results for each customer's specific application. This is accomplished by threading it on to the end of a cut to length hollow extension sleeve typically and easily made from an injector sleeve.
A proprietary technology provides a method for a replaceable 0.020" type J thermocouple to be located within the ISOSPRUE™ Spreader's tapered tip to provide the close control needed to produce the high speed cure of the spreader section.
Contact Acrolab today to discuss your specific high speed curing applications!
You have successfully added from to your part list.

Play See Video: Unique Sprue Curing Solution Video
---