Product Announcement from Acromag, Inc.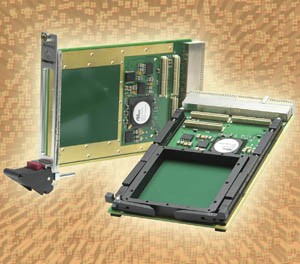 Acromag's new 3U Carrier Cards offer a simple way to implement I/O and other functions from mezzanine modules when PMC slots are not available on SBC or processor boards.
Acromag's new AcPC4610 Carrier Cards provide an easy and low-cost solution to expand the use of PMC mezzanine modules in 3U CompactPCI computer systems. The carrier card acts simply as an adapter to route PCI bus signals to and from the PMC module through the CompactPCI card slot edge connector. A PLX Technology PCI6540 bridge device provides a transparent 32-bit 33/66 MHz PCI/PCI bridge for data transactions from the PCI bus (system host) to the PMC site. Two models are available for air-cooled (-40 to 85°C range) or conduction-cooled applications. All Acromag PMC modules and those from other vendors are compatible. 3.3V and 5V DC signaling are supported. The carrier cards start at $600.
Front and rear-panel access to field I/O signals are accommodated. The air-cooled carrier card has a front panel cut-out providing access to a PMC module's front I/O connector. Alternatively, all I/O signals can be routed through the carrier card's rear J2 connector. An air-cooled rear transition board, Acromag Model TRANS-C4610, is available to map the field I/O on the PMC module to the rear of the CompactPCI card cage.
The conduction-cooled model employs a heat frame with wedge-loks® and thermo bars for use in applications where ambient or forced air can't provide adequate cooling. This unit is designed to meet ANSI/VITA-47 Environmental Class ECC4 standards and is ideal for airborne systems, deployment in battleground equipment, and other situations with advanced thermal management requirements. Field I/O signals are routed through the carrier card's rear J2 connector.

Acromag has designed and manufactured measurement and control products for more than 50 years. They are an international corporation with a world headquarters near Detroit, Michigan and a global network of sales representatives and distributors. Acromag offers a complete line of embedded I/O products including bus boards, mezzanine modules, wiring accessories, and software. Industries served include military, aerospace, manufacturing, transportation, utilities, and scientific research laboratories.
For more information about Acromag products, call Inside Sales or Marketing Communications at (248) 295-0310, (877) 295-7092, FAX (248) 624-9234, or write Acromag, Inc. at P.O. Box 437, Wixom, MI 48393-7037 USA. Information is also available on the Internet at www.acromag.com.
You have successfully added from to your part list.
---