AC4060/AC4061 Amplified Low Pressure Sensor Module
Product Announcement from Acuity Incorporated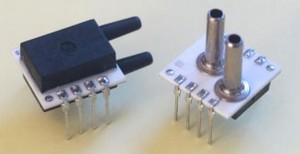 The AC4060 series amplified pressure sensor is a new, extremely low-pressure amplified product featuring the Acuity AC3050 and AC3030 low pressure die. The sensor is calibrated either as a gauge device with the zero at 0.5 Volts and a full-scale span of 4.0 Volts or as a differential device with zero at 2.5 Volts and a span of +/- 2 Volts. The gauge part is the AC4060 while the differential part is the AC4061.
The sensor is available in one of two standard port configuration. Vertical ports are provided as well as side-ports for applications with limited access.
Because of the stability of the Acuity pressure sensing die, the AC4060 can use the full capability of the incorporated ASIC die while achieving at 2.5 mBar better than a 2.5% total accuracy in calibration over pressure from 0 to 70 C.
The sensor corrects the sensor signal with a multi-point calibration algorithm using a dedicated signal processor ASIC over temperature and pressure. It provides the
---