Complete Line Lift Tables, Dock and Scissor Lifts
Product Announcement from Advance Lifts, Inc.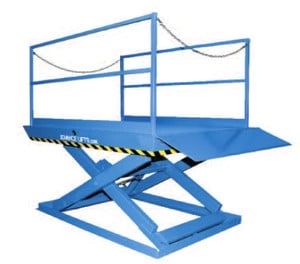 Advance Lifts is a leading lift manufacturer providing a complete line of dock lifts, lift tables, scissor lifts, turntables, dumpers and stretchers.
DOCK LIFTS
We are by far the #1 builder of dock lifts in the United States. We outsell our competitors because we offer an outstanding product with superior service at a reasonable price, which adds up to maximum value. Also, we offer the widest variety of dock lift models in the industry.
LIFT TABLES AND EQUIPMENT
We build the highest performance lift tables in the industry. We have the only 3,000,000 and 1,000,000 cycle guaranty standard units in the world. Our P series units with the 250,000 cycle 10 year warranty are the standard of comparison for normal production lift tables and now we have added the E series units for the lighter duty applications. If you can not find specifications to meet your needs here (we offer more standard choices than anyone else in the industry), then please check our specials tab to see our special design capabilities.
MEZZANINE LIFTS
Mezzanine lifts and scissor lifts have been safely moving men and material from ground level to higher elevations for more than 60 years and are an economical alternative to reciprocating conveyors and elevators with their elaborate guiding and hoisting mechanisms. Advance Lifts mezzanine lifts are built by Advance Lifts, giving you the absolute best in customer service and support.
---