BGA Socket Adapter System
Product Announcement from Advanced Interconnections Corp.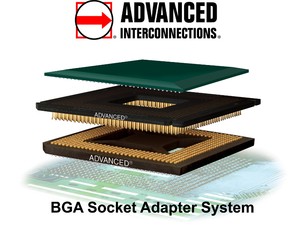 An economical and reliable alternative to soldering BGA devices directly to the motherboard, the Advanced® molded BGA Socket Adapter System enables the BGA device to be plugged into a mating socket after soldering to a pinned adapter. More Information...
Available from 0.50mm to 1.27mm pitch
Protects valuable PC boards and subjects device to lower thermal stress.
Same footprint as BGA device.
Value-added features such as eutectic SnPb and lead-free SnAgCu solder balls, and tape and reel packaging reduce processing and application costs.
Quick Links for our BGA Socket Adapter Products:
About Advanced Interconnections:
Advanced Interconnections Corp. is an ISO 9001 Certified designer and manufacturer of innovative interconnect solutions with technologically advanced features. Their patented designs offer high reliability in development, test, validation, and production level device-to-board and board-to-board applications.
Advanced Interconnections specializes in IC Sockets and Adapters for BGA, PGA, CSP, QFP, PLCC, SOIC, DIP, and SIP packages as well as IC Package Conversion Adapters and Board-to-Board Connectors. Standard and custom designs are available, all featuring screw-machined terminals for superior quality and field-proven performance. To comply with the RoHS Directive and the worldwide movement toward environmentally-friendly manufacturing, Advanced is pleased to offer all of their products with lead-free options.
Links to our full product line:
---