Custom Connectors for Military and Medical
Product Announcement from Advanced Interconnections Corp.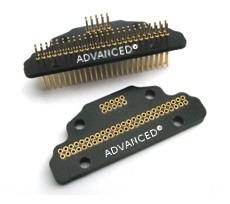 With in-house technology from precision drilling and routing to CNC screw machining, combined with 25+ years of interconnect engineering, Advanced can quickly design a customized solution for your next connector application. Their designs recently replaced stamped-and-formed connectors in military and medical applications, providing increased robustness at lower overall costs. More information...
Tap into the Advanced® Toolbox for:
Unique shapes to maximize board space
Board to Board and Cable to Board solutions
Customized screw-machined pins
Multi-finger contacts for reliability
Innovative designs can reduce overall connector count and associated assembly costs
Easily transition to molded designs as volumes ramp-up
Military, medical, industrial...anywhere that high reliability is needed
Options such as pick-up covers, keying/polarization, integrated signal and power, special plating, etc.
Advanced specializes in solutions for blind mating, harsh environments, and tight board space restrictions
About Advanced Interconnections:
Advanced Interconnections Corp. is an ISO 9001 Certified designer and manufacturer of innovative interconnect solutions with technologically advanced features. Their patented designs offer high reliability in development, test, validation, and production level device-to-board, cable-to-board, and board-to-board applications.
Advanced Interconnections specializes in IC Sockets and Adapters for BGA, PGA, CSP, QFP, PLCC, SOIC, DIP, and SIP packages as well as IC Package Conversion Adapters and Board-to-Board Connectors. Standard and custom designs are available, all featuring screw-machined terminals for superior quality and field-proven performance. To comply with the RoHS Directive and the worldwide movement toward environmentally-friendly manufacturing, Advanced is pleased to offer all of their products with lead-free options.
Links to our full product line:
---