Flip-Top™ BGA Socket
Product Announcement from Advanced Interconnections Corp.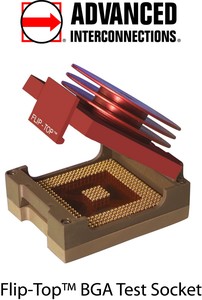 Advanced Interconnections' Flip-Top™ BGA Socket is engineered for test, programming, development, and production applications. This unique design dramatically reduces PC board space required for BGA and LGA device testing and socketing. More information...
Features:
The compact Flip-Top™ BGA Sockets require no external hold-downs and use less PC board space than most test sockets. The patent-pending pressure retention clamp, with integral heat sink, ensures a reliable connection.
No soldering of the BGA device required.
Same footprint as BGA device.
Compact, low-profile design maximizes PC board space and requires no external hold-downs.
Available with integral, finned heat sink or coin-screw retention clamp.
Surface mount and thru-hole designs available.
Quick Links for our Flip-Top BGA Socket Products:
About Advanced Interconnections:
Advanced Interconnections Corp. is an ISO 9001 Certified designer and manufacturer of innovative interconnect solutions with technologically advanced features. Their patented designs offer high reliability in development, test, validation, and production level device-to-board and board-to-board applications.
Advanced Interconnections specializes in IC Sockets and Adapters for BGA, PGA, CSP, QFP, PLCC, SOIC, DIP, and SIP packages as well as IC Package Conversion Adapters and Board-to-Board Connectors. Standard and custom designs are available, all featuring screw-machined terminals for superior quality and field-proven performance. To comply with the RoHS Directive and the worldwide movement toward environmentally-friendly manufacturing, Advanced is pleased to offer all of their products with lead-free options.
Links to our full product line:
---