Flip-Top BGA Test Socket for 0.50mm Pitch Devices
Product Announcement from Advanced Interconnections Corp.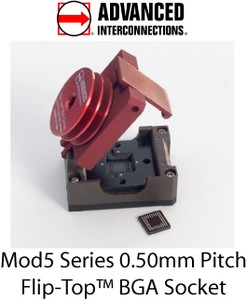 The Mod5 Series Flip-Top™ BGA Socket provides a compact, surface mount test solution for micro-BGA chipsets used in applications such as handheld, mobile, and wireless product development. Precision machined spring probes with industry proven solder balls ensure high reliability performance. More Information...
Model shown accommodates BGA packages up to 12mm sq. (22 x 22 rows) with larger sizes available upon request
Precision machined spring probes offer high bandwidth with very low insertion loss
Compact size (small keepout zone) enables use on design boards
Flip-Top BGA Socket's easy actuation with simple cover and turn-screw heat sink enables quick insertion and extraction
SMT design eliminates the cost of hardware and mounting holes and their associated interference with traces on the PCB
Quick Links for our Mod5 Series Flip-Top Test Socket Products:
About Advanced Interconnections:
Advanced Interconnections Corp. is an ISO 9001 Certified designer and manufacturer of innovative interconnect solutions with technologically advanced features. Their patented designs offer high reliability in development, test, validation, and production level device-to-board and board-to-board applications.
Advanced Interconnections specializes in IC Sockets and Adapters for BGA, PGA, CSP, QFP, PLCC, SOIC, DIP, and SIP packages as well as IC Package Conversion Adapters and Board-to-Board Connectors. Standard and custom designs are available, all featuring screw-machined terminals for superior quality and field-proven performance. To comply with the RoHS Directive and the worldwide movement toward environmentally-friendly manufacturing, Advanced is pleased to offer all of their products with lead-free options.
Links to our full product line:
---