Highly-Reliable Screw-Machined Terminals and Pins
Product Announcement from Advanced Interconnections Corp.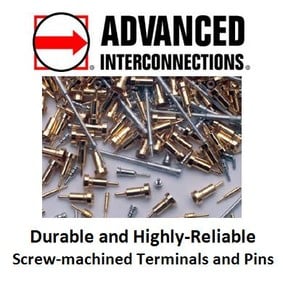 Durable and highly-reliable screw-machined terminals and pins from Advanced Interconnections.
Standard and customized designs available for SMT and thru-hole applications.
Advanced designs and manufactures hundreds of RoHS Compliant screw-machined terminals (pins and sockets) for high reliability interconnect applications. Advanced also offers a complete line of EMC® (Electronic Molding Corp.) insulated and non-insulated terminals and test jacks for RoHS Exempt applications, including Nurl-Loc® Insertion Tools, Non-insulated, Feed-thru, Standoff Terminals, and Test Jacks. More information...
Our patented solder preform terminals eliminate the need for wave soldering in mixed technology applications.
Wide variety of multi-finger contacts available to suit your application.
Customized pin designs available upon request.
Available with Gold/Gold or Matte Tin/Gold plating for lead-free compatible processing.
Quick Links for our Terminals and Test Jacks Products:
About Advanced Interconnections:
Advanced Interconnections Corp. is an ISO 9001 Certified designer and manufacturer of innovative interconnect solutions with technologically advanced features. Their patented designs offer high reliability in development, test, validation, and production level device-to-board and board-to-board applications.
Advanced Interconnections specializes in IC Sockets and Adapters for BGA, PGA, QFP, CSP, QFP, PLCC, SOIC, DIP, and SIP packages as well as IC Package Conversion Adapters and Board-to-Board Connectors. Standard and custom designs are available, all featuring screw-machined terminals for superior quality and field-proven performance. To comply with the RoHS Directive and the worldwide movement toward environmentally-friendly manufacturing, Advanced is pleased to offer all of their products with lead-free options.
Links to our full product line:
---