SMT Connectors- Mezza-pede Low Profile, 1mm pitch
Product Announcement from Advanced Interconnections Corp.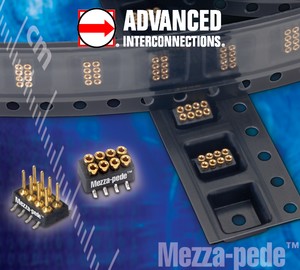 With Advanced's enclosed screw-machined socket, 6-finger contact and heavy gold plating, Mezza-pede® Connectors pass the 20-day mixed flowing gas (MFG) test required in many telecom and other severe environment and long-life applications. Our over-molded lead frame seals the surface mount leads to prevent solder wicking, ensuring a secure solder joint. The low 4mm stack height makes it ideal for tight mezzanine packaging applications. More Information...
Low profile, Robust design, Dual row configurations...
Fits within existing board layouts.
Patented SMT lead frame and pin design and SMT and thru-hole designs available.
Passed 20-Day MFG test with heavy Gold terminal plating (GH).
Qualified for use in telecommunications applications and RoHS Compliant
Quick Links:
About Advanced Interconnections:
Advanced Interconnections Corp. is an ISO 9001 Certified designer and manufacturer of innovative interconnect solutions with technologically advanced features. Their patented designs offer high reliability in development, test, validation, and production level device-to-board and board-to-board applications.
Advanced Interconnections extensive line of products includes (use the links below for additional product information):
---