Ceramic and Kapton Pressure Windows
Product Announcement from Advanced Microwave Components, Inc.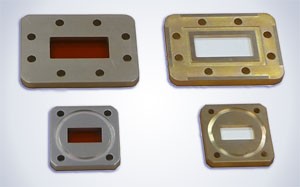 Advanced Microwave Components offers low and high power pressure windows. All windows are polished and include iridite corrosion protection. All AMC windows are inspected with strict criteria that must be met or exceeded by our professionally staffed Quality Assurance Department prior to delivery. All windows are unpainted unless otherwise specified.
1.70 - 22.00 GHz Performance Frequency
1.25 Typical Max VSWR (VSWR varies with design)
Male or Female Connectors available
Numerous Flange Configurations available
Aluminum (6061) or Copper WR Waveguide Available
---