Crossguide Couplers
Product Announcement from Advanced Microwave Components, Inc.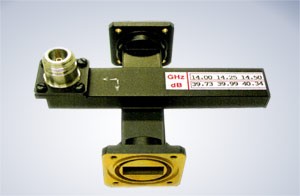 Crossguide Couplers
AMC offers a top of the line crossguide coupler that is used to sample the power traveling through a system. All AMC components are produced with the highest quality available. We insure our quality with an ISO9001 / AS9100 Quality System. Note all AMC-CGC models are made of copper or aluminum and include iridite/corrosion protection treatment. We offer a flat black paint that is our standard with all our units.
2.6 - 18 GHz High Performance
1.15 Typical VSWR
Male or Female Connectors
Mid-Band Nominal Coupling Values of 20-50 are standard.
Standard Material Copper or Aluminum (6061)

Contact us today for a quote!
---