Twistable/Flexible Waveguides
Product Announcement from Advanced Microwave Components, Inc.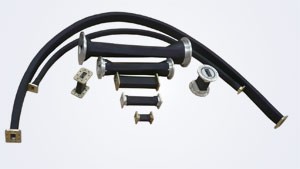 Advanced Microwave Components offers an array of flexible waveguide. The waveguide sizes range from WR-28 to as large as WR-284. The standard construction for all models of flex is silver clad brass. AMC also offers special unit design upon customer request. All AMC components are produced with the highest quality available. We insure our quality with an ISO9001 / AS9100 Quality System. All AMC twistable, flexible waveguides are neoprene jacketed unless otherwise specified. AMC offers numerous types of jackets as a special order and we offer additional upgrades on painting.
2.6 - 40.00 GHz Performance Frequencies
Flexible Waveguide can be Aluminum (6061) or Copper
Numerous Flange Configurations available
Contact us today for a quote!
---