Bare Al Optical Mirrors
Product Announcement from Advanced Optics, Inc.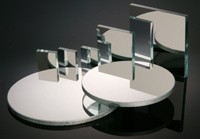 Advanced Optics, Inc. has been manufacturing high quality optical components for almost 40 years.
Bare Aluminum coating provides a higher reflectivity than overcoated aluminum. This feature makes it the coating of choice for some systems, such as spectrophotometers.
Unlike AlSiO, Bare Aluminum is not very durable and because of the softness of the coating, mirrors are difficult to clean without damage. In addition to the sizes listed, special sizes can be furnished upon request.
Our product line consists of precision and commercial grade optical mirrors and windows as well as single and double sided optical flats. All are excellent performers when it comes to aerospace, military and commercial avionics, medical instrumentation, academics and research, and industrial applications. Our skilled staff takes pride in the care and attention to detail of each optic we produce.
Request a quote. Advanced Optics can help you meet your most demanding application specifications. Whether you require custom optical fabrication or one of our many off-the-shelf optics, let us provide you with a prompt competitive quote today!
---