Product Announcement from Advanced Optics, Inc.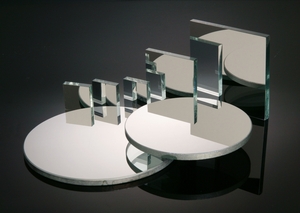 Advanced Optics manufacturers both highly precision polished optical mirrors and commercial grade mirrors to meet various optical applications. In addition to their many in-stock sizes, Advanced Optics also provides free engineering services and custom fabrication to meet the most precise requirements.
Precision Polished Optical Mirrors - are typically made of Pyrex, fused silica, BK-7 and zerodur and may be coated with with a variety of reflective coatings.
Commercial Grade Optical Mirrors - offer a low cost alternative when ultra high precision optics are not required. As with their precision polished mirrors, Advanced Optics commercial grade mirrors come in a variety of shapes and are offered with the same choice of high quality reflective coatings.
Optical Coatings - optical mirrors are commonly called front surface or first surface mirrors as the light is reflected off the coated surface without passing through the glass. Advanced Optics most popular reflective coating for the visible region of the spectrum is protected aluminum. A half wavelength of Silicon Monoxide (SiO) is applied over the aluminum and provides abrasion resistance for the delicate aluminum. They also furnish mirrors without the protective overcoat (bare aluminum optical mirrors) for use in the infrared. An enhanced aluminum is also available, one for increased reflectivity in the visible region and one for the ultraviolet region.
Advanced Optics also provides precious metal coatings. As with their aluminum coatings, their gold coatings come either protected or bare for use in the near infrared and infrared regions of the spectrum. Protected and enhanced Silver coatings are superior in reflectance to both aluminum and gold, however it has a tendency to oxidize and tarnish if it is not thoroughly sealed from the atmosphere.
You have successfully added from to your part list.
---